ZoogVPN Review
[Presented by BestCloudBest.com]
Zoog VPN is a VPN service that is based in Greece, where it was founded in 2013. This VPN really stands out from all the VPNs on the market. It provides the users with superb service, a solid privacy policy, custom apps for a majority of devices and platforms, and many other intriguing features. For the six years, that's been in this industry, and it has built a big and strong reputation as being a fantastic VPN. ZoogVPN has millions of satisfied customers, over 50 locations in 27 countries, spread across five continents.
What are the features of ZoogVPN?
Thus VPN has some high-end as well as your typical VPN features. In the next list, you will see which features does this VPN has to offer to its users:
· No logs policy
· 24/7 customer support
· Up to five different devices with one account
· Great for torrenting
· P2P support
· 7-day money-back guarantee
· Unblocks Netflix
Privacy at ZoogVPN
At first, this VPN was based in the UK's Isle of Man, which acts in accordance with the UK data retention laws. Today, this VPN is located in Greece, which is considered to be a more user-friendly location. This VPN has a no-logs policy, which means that it doesn't store data about your IP address or your online activity. It is more then safe to say that even if the authorities requested data, they would get no information about the users thanks to the zero logs policy. The only information that this VPN collect is your email address and bandwidth usage. They only save the e-mail addresses for the verification of the payment methods. Zero information is shared with other parties or companies, so users should raise no concerns when it comes to their privacy.
As for the security and encryption features, this VPN offers enough to make the users happy. There are two encryption protocols that this VPN offers, one being the OpenVPN protocol and the IKEv2 encryption protocol. If you get the free plan of ZoogVPN, the OpenVPN will be protected with a 128-bit AES. Meanwhile, if you were to opt-in for a paid plan, the OpenVPN is going to be protected with a 256-bit AES, which is slightly stronger than the 128-bit AES. That's not all when it comes to security features. This VPN also offers an excellent security feature- the kill switch. This VPN feature will automatically disconnect your device from the Internet up until the moment your VPN connection is restored. With the kill switch, your IP address will never be exposed.
Is ZoogVPN user friendly?
It is pretty easy to install the ZoogVPN application. So, you just have to download the installer that you can find on the website of this VPN. Once you've done that, launch the application, and you will be ready to use the services of this superb VPN.
When you install the app, you can log in by using your ZoogVPN password as wells as your e-mail address. Once you've logged in, go and check the checkbox that says, "Remember me." By doing that, you won't have type in your password and email every time you want to log in, and you're going to be automatically logged into your account.
Once you launch the application, you choose the option "Connect," and that means that the VPN will automatically pick a server that will be the best for you. Or you can choose a server manually by going to the server list that is listed in alphabetical order. Also, the VPN labels what servers are for free users, and what servers are for the customers that selected the paid plans.
How much does ZoogVPN cost?
ZoogVPN is a top-notch VPN, there's no doubt about that. For such an impressive VPN service that has state-of-the-art encryption and 100% safe apps, the pricing plans can be purchased by anyone because they more than affordable. Many VPN experts suggest that it is better if the customers choose a pricing plan that will allow them to use the VPN for a long time because that way, the plans would be cheaper. So, it is highly recommended that you pick a 2-year or 1-year paid plan. The pricing plans are relatively cheap when you compare them to other VPN's, but that doesn't mean that they lack quality. Actually, they're of the highest quality in this niche. If you find that the services of this VPN didn't meet your expectations, you can use the option of a 7-day money-back guarantee. But, with a couple of million customers that are satisfied with this VPN, you can realize that there aren't many users that have chosen this option.
The current pricing plans that ZoogVPN has to offer to its users: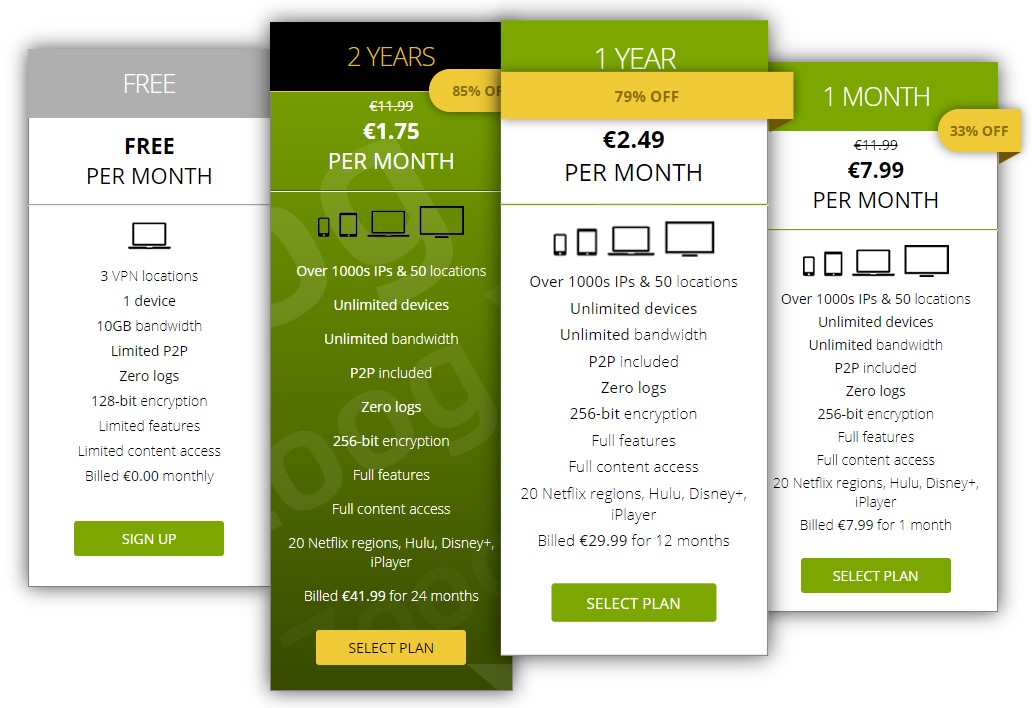 · The Free plan- you can sign-up to this VPN without having to spend your money. With the free plan, you will get many useful features. Those features are:
· One device with one account
· No logs policy
· 3 VPN locations
· 128-bit AES
· You can choose the pricing plan for one month. This will cost you $7.99. Currently, at the VPN's website, this offer is on a 38% discount. The features that you will get with this pricing plan are:
· Over fifty VPN locations
· An option to use up to five devices with one account
· 256-bit AES
· Unlimited bandwidth
· Netflix and BBC iPlayer
· Also, there is a 1-year price plan. If you pick this deal, you would have to pay $2.99 per month. At the moment, this offer is on a 77% discount. You will get the chance to enjoy these features:
· Over fifty VPN locations
· A chance to use a maximum of five devices with one account
· No logs policy
· Every VPN protocol
· P2P
· Streaming services such as Netflix and ITV Hub
· The last paid plan you could choose is the 2-year plan. If you were to opt-in for this deal, you would have to pay $1.75 per month. Right now, this offer is on an 87% discount. So, if you want to use the best VPN, Zoog VPN, for two years, choose this extremely affordable pricing plan. The features you will get with this paid plan are amazing. They will be included in the next list:
· Over fifty VPN locations
· An option to use five devices with one account
· No logs policy
· Every encryption protocol
· 256-bit AES
· Access to streaming services such as Netflix, and ITV Hub
This VPN supports a number of fantastic payment methods. You have the opportunity to make payments using your credits cards (Visa and MasterCard). As for the other payment methods you could select, there are PayPal, UnionPay, American Express, etc. Also, the proof that this VPN is following the trends of the most modern VPN's is the introduction of the Bitcoin as a payment method.
ZoogVPN for torrenting and streaming services
In the VPN industry, it is widely known that this VPN service is one of the best when it comes to torrenting and having access to great streaming services such as Netflix, ITV Hub, and BBCi Player. In addition, this VPN has servers that are specifically meant for P2P traffic. On the website, the servers that allow P2P traffic are clearly labeled. This way, you wouldn't have to worry that your account will be canceled if you use the wrong server. These servers are spread across five continents.
This VPN will provide its users with Socks5 Proxy. With the help of this proxy, you will have lighting fast downloading speeds, and it will also ensure you some security through authentication and make your torrenting private as well as completely safe.
Besides being fantastic for torrenting, this VPN service works fine with streaming services like Netflix, which has reached worldwide popularity. Many Netflix users have realized that they have limited content in the country that they live in. So, naturally, the users would want to get access to all the Netflix content and watch their favorite movies and TV shows. This VPN allows the users to get access to all Netflix content by getting past the geoblocks. For example, if you're originally from Germany, you can choose a US server where you can get to watch all the Netflix content. Now, we will present you the steps to getting the Netflix content from anywhere you like:
· Your first step would be to sign-up at the ZoogVPN website, and then you should download the installer
· Then, you should go and connect to a server located in a country of your choice. The best choice that the user could possibly make would be to pick a server in the US, for watching Netflix
· Insert your Netflix credentials and log into your account
· Sit back and watch a Netflix movie or a series of your liking
What devices are compatible with ZoogVPN?
ZoogVPN supports a vast array of platforms and devices. This VPN is available to all the popular operating systems such as Windows, Mac, iOS, Android, Linux, Apple, and so on. On the website of this VPN, you can pick to download the software for any operating system of your choice.
With this VPN, you can choose to use any device that you prefer, whether it's a smartphone, tablet, laptop, or P.C. Also, if you pick the free pricing plan, you can only use one device with one account. But, if you choose a paid plan, then you can use up to a maximum of devices with one account, which is phenomenal. Now, we will give you a short summary of how compatible are some operating systems with this VPN:
· Mac - the users of Mac, will benefit the most by using this VPN. By using Mac, as your operating system, this VPN will provide you with features such as the kill switch and also the DNS leak protection. Thanks to this, Mac users will be able to download their content through P2P servers, which is really great. Also, this is the operating system with which you can choose to use between the two encryption protocols, the OpenVPN and the IKEv2.
· Windows - you will have access to Manual API resolution, which is a feature that will give you access to log into VPN in certain countries that happen to firewall the URLs of the VPN. You will also have features like the kill switch as well as DNS leak protection. You can select these encryption protocols, OpenVPN, and TCP.
· Android - it is quite simple to use the Android client, and it is perfect for getting past geoblocks and giving you a chance to enjoy some streaming services such as Netflix and ITV Hub. As for the encryption, you will be protected by the OpenVPN protocol. Although this client doesn't have the kill switch feature, it's still pretty impressive when it comes to protecting your privacy.
· iOS - if you use this application, you're going to be protected with the IKEv2 encryption protocol. Also, this application is very good for unblocking streaming services.
Network speeds of ZoogVPN
Every feature of a VPN is important, and that is especially the case with speed. The connection speeds of this VPN are above average. For instance, the download speed of the US servers happens to be around 13.6 Mbps, while the upload speed is around 6.9Mbps. It will take somewhere between 5 and 10 seconds before you get connected to a server, and that is quite fast for any VPN.
Using ZoogVPN on Windows
Installing Zoog VPN is like any other Windows software, you just have to download the installer and follow the steps.
The application opens with a login screen, and if you are ever having problems with the credentials, the client supports setting the login API manually.
The app follows a dark design scheme complemented with green icons and light grey text.
Looking at the opening screen you can see your current IP address and a large connect button which automatically connects you to the closest server. The status information of your current IP address and location is always shown.
The server list can be opened by clicking on the large locations bar at the bottom of the screen, the list entries are sorted alphabetically and there is no option to change this. There are indicators to which servers "unblock" streaming services, and which support P2P services, but there is no latency or bandwidth indicator to help you to select the fastest server.
Our experience shows that servers close to your actual location are fairly fast, most of them reach speeds over 150Mbps but locations overseas are all under 100Mbs.
When it comes to the settings, there isn't much to change around. You can find the usual settings, like launching the app with Windows or automatically connecting at startup. In case your VPN can't connect to the server on the first try, Zoog will automatically try to connect using a different protocol, and there were times that this feature came in handy.
In case of a sudden disruption in the VPN service Zoog's network kill switch will protect your real identity. We tested the kill switch by crashing the OpenVPN daemon, and by screwing around with the virtual network adapter, both of the times the kill switch immediately blocked all network traffic and our real IP remained hidden.
Zoog supports 2 VPN protocols, by default it uses IKEv2, but you can change it to OpenVPN UDP or TCP. While using IKEv2 we detected some security issues as we were testing around: we noticed that some of the DNS servers that are in use are located in our country of origin, this information can be used to narrow down the real location of the users. The problem only occurred while we were using IKEv2, but if you are currently using Zoog make sure that the protocol is switched over to OpenVPN.
For users who want to be anonymous in areas where VPN services are blocked by firewalls, Zoog implemented a feature called "ZoogVPN Shadowing '' which if enabled masquerades all data to look like other common network traffic.
Sadly the list of features comes to an end here. The tray icon is only used to display the current status of the VPN, it would be nice to have at least a "quit" or "show" option when right-clicking on it.
The application doesn't have a built-in interface to contact support, but there is one to see your current subscription plan.
As a conclusion, we would recommend Zoog to people who only need a simple one-click VPN that's fast and reliable. There are many features that we would like to see added in the future, but we're not sure if this is the aim of Zoog. There should be easy to use VPN services on the market and ZoogVPN excels in this category. During the testing we didn't run into any bugs or glitches, there were no IP-leaks but there was a DNS leak while using IKEv2.
ZoogVPN's smartphone applications
It's common that a VPN provider's mobile application contains fewer features than it's desktop counterparts. The main difference between the Windows and the mobile application is the lack of IKEv2 protocol, but this isn't really a problem as our experience shows that Zoog's OpenVPN implementation is more secure.
The design scheme is more or less the same as on Windows, it has dark colors complemented with green icons and light grey text. You can find all the same locations as in the desktop version and it does have the option to use "Streaming", servers and it also supports P2P connections.
There are many VPN providers that give smartphone users a short trial, but Zoog offers a free service, with limited servers and a 10Gb monthly data allowance. Usually, these servers are very slow so we would only recommend using the free service if you just want to check out the application.
When it comes to the settings there are almost none. You get the usual features like automatically connecting the VPN when the app starts or automatically reconnecting if the VPN detects connection problems.
Using the left side menu you can access a graph that shows your connection speed statistics.
Picking a location can be a bit challenging as the server list is sorted alphabetically by default and there is no search bar. There is no indication for ping or load next to the list entries.
At the end of the day, Zoog's mobile client is very basic, and it doesn't have any features that would make it more appealing, but at least the service is secure and we can happily say that during our testing we detected no IP/DNS leaks. The torrent servers were also secure, and we didn't run into any bugs or glitches. What we did find, is a useless widget which was probably left in accidentally by the developers, we would think that if the app was tested extensively they would have noticed this.
ZoogVPN on Linux
ZoogVPN currently provides no application for its users using Linux but they do provide pre-configured OpenVPN files and a hopeless setup guide. When we tried following their setup guide for Ubuntu, the connection just wouldn't work, but we did manage to get it working by configuring the connection by ourselves.
To start using the service you will need a ZoogVPN premium subscription. We tried using the free servers but they were all inoperative. Before you can start using the service please make sure that you have the latest version of OpenVPN network manager installed, and when the installation is complete don't forget to update your system using the "sudo apt-get update" command in a terminal.
Once you are done installing the program, head over to the router setup guides on Zoog's website, make sure that the guide is explaining how to set up OpenVPN on a router, then scroll down a bit; and if you are logged in with a premium subscription there should be a list of all available servers, here download a ".ovpn" configuration file of your liking.
As for the next step, head over to the network settings and click on the little plus icon next to the list of VPN connections. Select "Import a saved VPN configuration" and select the ".ovpn" file you downloaded from Zoog's website. If you did everything correctly there should be a window called "Identity" on your screen. Enter your username and password into the corresponding fields (this is the email and password combination that you use on the website). Click on the "Apply" button, enable the connection, and test out the service by checking your IP address online.
Let us elaborate what's the problem with the setup guide on Zoog's website. First the tutorial is old and it uses an old version of Ubuntu, while this can be a bit confusing it shouldn't be a game ending problem. The second larger problem is the lack of ".ovpn" configuration files in the guide, the guide redirects the users to the downloads page, but the only OpenVPN configuration files that you can find here are for the free servers, which are basically useless because couldn't connect to any of them.
Summing up our experience, ZoogVPN needs to update their guide on the website, while the setup is possible it's frustrating to search around on their website for the correct configuration files. We would only recommend using this VPN on Linux if you already have a ZoogVPN subscription.
During testing, we found no IP leaks.
Does your router support ZoogVPN?
We tested ZoogVPN on a router running AsusWRT firmware but the service supports any router compatible with OpenVPN, IKEv2, L2TP/IP, and PPTP ZoogVPN also provides some guides for routers running DD-WRT, Tomato, Mikrotik, and Draytek.
While there is no guide for AsusWRT on the website, setting up a VPN connection on any router running this firmware is really simple. We recommend using OpenVPN on your router if it supports the protocol, it's the easiest to set up and manage later on.
First, navigate to the VPN panel on your router's configuration page, select add profile, give the connection a name of your liking, enter your username and password (these are the same as what you would use on the website).
Next, download an OpenVPN configuration file for the server of your choice and import it. These files contain all the necessary configurations for the connection, the config files can be hard to find, they are hidden away in the setup guides. There is no need to import or edit the CA file manually.
The only drawbacks of using a virtual private network on your router are that it's difficult to turn on and off and it's hard to switch between servers, but that worth considering if you want to secure all your smart home devices.
Setting up ZoogVPN was not particularly hard but there is no guide for our firmware on the site. We didn't run into any problems or noticed any bugs while testing the service. Zoog on a router also passed all of our security tests.
Customer support of ZoogVPN
Users can contact the ZoogVPN customer support via live chat 24/7. This is quite rare for VPN's, and it is a big advantage for this VPN. It also has a blog and an FAQ (Frequently Asked Questions) section. In this section, you will see the answers to the most frequent questions asked by the users, and it will certainly be of great help to you. The staff of customer support is known as kind as well as professional. When you contact them via live chat, you would have to wait a couple of minutes before you get a response. Many users of this VPN are very happy with how the staff answers their questions.
Server Locations for ZoogVPN
NORTH AMERICA
Canada; Canada - Montreal; United States; US - Buffalo, NY; US - Chicago, IL; US - Dallas, TX; US - Los Angeles, CA; US - Miami, FL; US - New York, NY; US - San Francisco, CA; US - Washington DC
CENTRAL AMERICA & CARIBBEAN
N/A
SOUTH AMERICA
Chile
EUROPE
Netherlands; Belgium; Denmark; Finland; France; Germany; Greece; Ireland; Italy; Netherlands; Norway; Russia; Spain; Sweden; Switzerland; United Kingdom; UK - London
ASIA
Hong Kong; Japan; Russia; Singapore
AFRICA & MIDDLE EAST
Israel; South Africa
OCEANIA
Australia; Australia - Sydney