SurfShark VPN Review
[Presented by BestCloudBest.com]
VPNs allow you to browse the Internet safely, moreover, they also offer anonymity. There are several excellent VPN providers, and you might wonder how to choose one that meets your requirements.
SurfShark is a relatively new VPN provider, however, it has already made a mark in this space. It offers excellent privacy and security, moreover, SurfShark offers really good speeds for gaming, torrenting, and streaming.
SurfShark unblocks sites like Netflix and Hulu, furthermore, it keeps malware and ads away. The company provides all of these at a reasonable price, which makes it an attractive choice.
Should you use this VPN service? We have reviewed multiple aspects of SurfShark so that you can decide whether it's good for you.
What features do you get with SurfShark VPN?
When choosing a VPN provider, you will surely look for its features. SurfShark fares very well here. Privacy is likely high on your agenda when you are looking for a VPN provider. SurfShark fares well here since the company has a strict no-logs policy. The company doesn't log, monitor, track, or store your online activities. It's based in the British Virgin Islands, which has no data retention laws.
SurfShark allows you to hide your IP address, moreover, it has a "camouflage mode" which bars your Internet provider from knowing that you are using a VPN. Its "kill switch" disconnects your device from the Internet if the VPN connection drops due to any reason, which helps to maintain your privacy.
Security is another high-priority consideration for you when you shop for VPNs. SurfShark provides excellent security features, e.g., IKEv2/IPsec are its default protocols. The company claims to have private DNS on each one of its servers, and it provides leak protection when using IPv4 stack. SurfShark uses industry-leading AES-256-GCM encryption to guard your sensitive information.
SurfShark has a "CleanWeb" feature. With it, you can browse the Internet with no ads, trackers, malware, and phishing attempts.
SurfShark has a presence in over 61 countries, and it has over 1,040 servers spanning across these countries. It has a presence in all key geographies like North America, Europe, Asia, and Latin America. The company claims that all its servers are bare metal servers, moreover, these are physical single-occupancy servers.
You can connect as many devices as you want with just one SurfShark account. That's because SurfShark offers unlimited simultaneous connections, which is helpful for users.
SurfShark requests that you keep your account credentials restricted within your family, however, the company claims that it can't identify abuses concerning this. This is because SurfShark keeps no logs. You as a VPN user would like that since you wouldn't prefer that the VPN provider maintains logs.
A key advantage of SurfShark is the wide range of devices it supports. You can use it with Android or iOS devices, moreover, it supports all popular desktops, e.g., Windows, macOS, and Linux. SurfShark works with Fire TV, Apple TV, and other smart TVs. It has a Chrome extension and a Firefox add-on.
SurfShark features router support. It supports DD-WRT, Tomato, AsusWRT, Netgear, TP-Link, and Linksys routers.
SurfShark unlocks Netflix libraries for 16 countries including the US. You can access Hulu and BBC iPlayer with SurfShark, moreover, it allows torrenting.
You can allow specific apps and websites to bypass the VPN, or allow only selected programs/apps to go through the VPN. SurfShark makes it possible thanks to its "split tunneling" feature, which is available in its Windows and Android apps. This feature is useful for mobile banking apps.
You can take advantage of the Smart DNS service of SurfShark, which can hide your location on devices that don't support VPN clients. This can be used on smart TVs, games consoles, etc. Note that this service offers no privacy and security advantages.
SurfShark offers a static IP feature, which is available on its Windows and Android apps. The company has a list of servers in specific countries like the USA, UK, Japan, etc. If you connect to these servers, then SurfShark assigns the same IP address to you whenever you connect to the same server. This helps if you run an FTP server or games server, or if you connect to a server from the Internet while running the SurfShark VPN.
How much does the service cost?

You would certainly look at the pricing plans when you are looking for a VPN provider, and SurfShark has a flexible plan to offer. Its pricing plans are as follows:
· If you want to buy its monthly plan, then it costs $11.95/month.
· The yearly plan offers a considerable discount, with SurfShark billing you $71.88 every 12 months. This works out to $5.99/month.
· SurfShark offers a steep discount if you buy its 27-months plan. You pay $47.76 every 27 months, therefore, your monthly bill works out to $1.77.
You can enjoy all its features irrespective of the pricing plan you choose. SurfShark offers a 30-day money-back guarantee, which has no limitations. Note that the payments renew automatically, therefore, you need to contact the SurfShark customer support to cancel it.
SurfShark has a 7-day free trial period on Google Play and the Apple App Store. You need to sign-up with SurfShark and provide payment details to avail of this, however, you don't need to pay anything if you cancel within 7 days.
SurfShark uses a secure payment gateway to protect your payment transactions. You can use credit cards like Visa, MasterCard, Amex, and Discover. SurfShark also accepts PayPal, Google Pay, and Amazon Pay. You can buy a SurfShark plan using cryptocurrencies, and the company currently accepts Bitcoin, Ether, and Ripple.
The pros and cons of SurfShark VPN
You will surely consider the pros and cons of SurfShark before deciding whether to buy it, therefore, let's summarize them.
SurfShark offers the following advantages:
· As a "no-log" VPN provider whose jurisdiction doesn't mandate data retention, privacy is a strong point of SurfShark. Features like kill switch, camouflage, etc. further protect your privacy.
· Security is another strong point of SurfShark, thanks to its IKEv2/IPsec protocols, protection against leaks, and strong encryption. SurfShark provides strong protection against viruses.
· SurfShark has an impressive global presence and offers very good speed. When you connect via a VPN, your speed could decrease since there could be a distance between you and the server. Our tests found that SurfShark offers as good speed as any other market-leading VPN provider.
· It supports unlimited simultaneous connections.
· SurfShark works with all popular mobile and desktop operating systems, thanks to its clients, apps, and browser extensions.
· Many users opt for a VPN since they want to access Netflix and other popular streaming services, and SurfShark works well for them.
· SurfShark allows torrenting. The company states on its website that its VPN is P2P-friendly and they provide unlimited bandwidth. SurfShark delivers what it commits in this regard.
· Its services like split tunneling, smart DNS, and static IP are icings on the cake.
· SurfShark offers highly attractive discounts in its 2-years plan.
· SurfShark has received no gag orders, national security letters, or warrants from any government, and this indicates its impressive track record!
· The company provides excellent chat support.
SurfShark has a few disadvantages, which are as follows:
· Its monthly plan can be considered as expensive.
· While the British Virgin Islands, which is the jurisdiction of SurfShark, has no data retention laws, it's still under the control of the UK. Given that the UK is one of the "14 Eyes" countries that allow mass surveillance, the British Virgin Islands isn't the perfect jurisdiction for a privacy-focused VPN provider.
· Some of the features are available only on the Windows client and Android app.
· SurfShark offers a free trial for the Android and iOS apps only.
· Our tests showed that the speed dropped at times although it wasn't below-par.
· The email support of SurfShark isn't responsive enough, however, it doesn't impact much since the company offers great chat support.
A few quick facts about SurfShark VPN
Given the above explanation of the features, pricing, and pros-and-cons of SurfShark, we can summarize a few quick points about this VPN provider. These are as follows:
· Although new, SurfShark has strong privacy and security features.
· It unblocks a considerable number of streaming and torrenting services.
· SurfShark covers all popular platforms and operating systems, and it allows unlimited simultaneous connections.
· While its jurisdiction isn't ideal for privacy, it still stands at a stronger position than many VPN providers located in countries that conduct mass surveillance.
· SurfShark offers many interesting features like kill switch, camouflage, static IP, etc., however, some of them aren't available on all of their clients and apps.
· It ranks well in terms of speed.
· While the monthly plan is expensive, its 2-years plan offers really attractive discounts.
Is SurfShark safe to use?
SurfShark claims that they fully protect you from IPv4, IPv6, DNS, and WebRTC leaks, moreover, the company claims this for all of its clients, apps, and browser extensions. During our test the IPv6 was not reachable when we used SurfShark.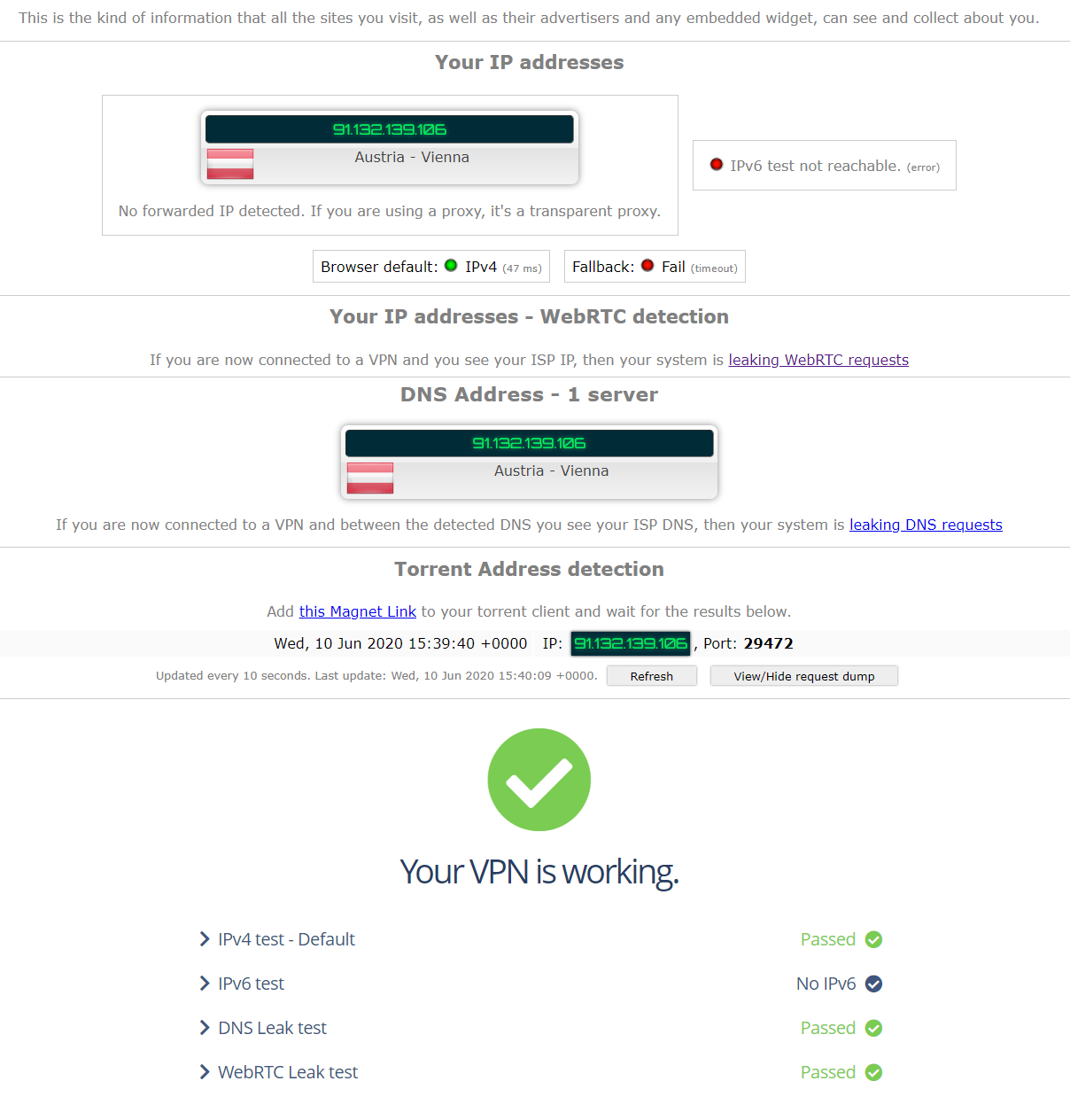 Is SurfShark VPN easy to use?
You will likely accord a high priority to the ease of use when shopping for a VPN. SurfShark is certainly easy to use, and you will notice this as soon as you visit its website. It's easy to navigate its website, and it prominently displays the FAQ and customer support pages. You can use its live chat facility if you have questions.
Buying a SurfShark plan is easy! Its sign-up page shows the pricing plans, and you need to choose a suitable one.
As the next step, you create an account with an email address.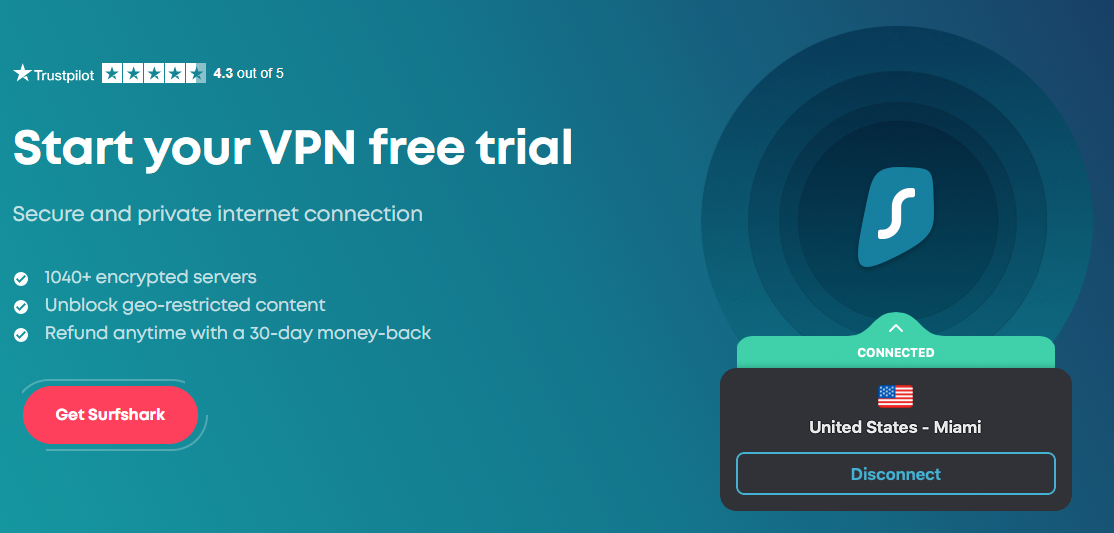 There are optional features at additional cost, e.g., HackLock, which scans the web and alerts you if your email is leaked. Another optional feature is BlindSearch, which is a private search engine that has no ads. BlindSearch doesn't keep a log of your searches.
As the next step, you choose a payment option, e.g., card, PayPal, etc. You get a confirmation email after you purchase, which contains useful links. In summary, the website has everything that you need.
All of the SurfShark clients and apps have simple and elegant UIs.
Testing the Windows client of SurfShark VPN
Getting and installing the Windows application is easy. After downloading and installing the latest version from the official SurfShark website we were greeted by a sign-in screen, there was also an option to create a new account, choose a subscription plan and pay for the service all inside the application, no third-party browser was needed.
The application is very well made and adapts responsively to any resizing or dragging. When it's in the small window mode it looks like any desktop VPN app with a list of servers and a connect button. When the window is expanded or maximized it switches over to a larger button layout with options placed in easier to access locations.
Connecting to a server is easy. Just tap the connect button and it automatically chooses the server with the lowest latency for you. Alternatively, you can click on the locations tab and select a server of your own choice, note that the application doesn't list latencies instead there is a server load icon.
The MultiHop option enables traffic to go through two VPN servers instead of one, the idea is that this extra layer of security protects the user's identity even if the exit server is compromised. But using this option comes with its drawbacks, compared to just using one server the latency is increased and the download/upload speeds are reduced. Despite the drawbacks, this is a rarely seen feature and I'm glad to see it in SurfShark's app.
Under the Whitelister tab, we are able to choose applications, websites, and IP addresses that won't be using the VPN tunnel instead it will be using your normal internet connection. This is especially useful if a website or app isn't working with the VPN enabled. This Whitelist function can be turned around and only the selected websites and applications will use the VPN.
The CleanWeb feature claims to block ads, trackers, and malware. This function seems to work well with mainstream websites and advertisers, but it might struggle with some less common advertising surfaces.
A mode called NoBorders aims to bypass firewalls in countries that block VPN connections outside of their network. It's not explained in detail how it aims to achieve this, and we currently have no way of testing this feature, but other sources report that it works by masking the VPN traffic as other data.
The application also includes some more common features like launching and connecting on device start up or changing the protocols between OpenVPN UPD and TCP, IKEv2 or, Shadowsocks.
There is also a built-in kill switch which blocks all traffic while the VPN is off or the connection was dropped, there are reports of this feature not working or being too slow to block all traffic when the connection to the VPN server is lost, but we couldn't reproduce this error.
Overall SurfShark's Windows client is easy to use, it only misses a few features that we would like to see added in the future, (like a kill switch that's only on if the VPN is turned on) and we didn't run into any bugs while testing it.
Surfshark VPN on Android and IOS
Most of the time mobile applications are far more basic than their desktop counterparts but, in this case, they offer surprisingly similar features. The interface design is more or less the same, it has the same list of locations it has the option to use Multihop connection, CleanWeb, and split tunnelling with the Whitelister option.
The only way to get a trial version of SurfShark is through the mobile platforms if you sign up for a subscription on your mobile you can get a 7-day free trial. This is a fully-functional version of SurfShark without any limitations. But don't forget to cancel your subscription before the money is deducted from your account.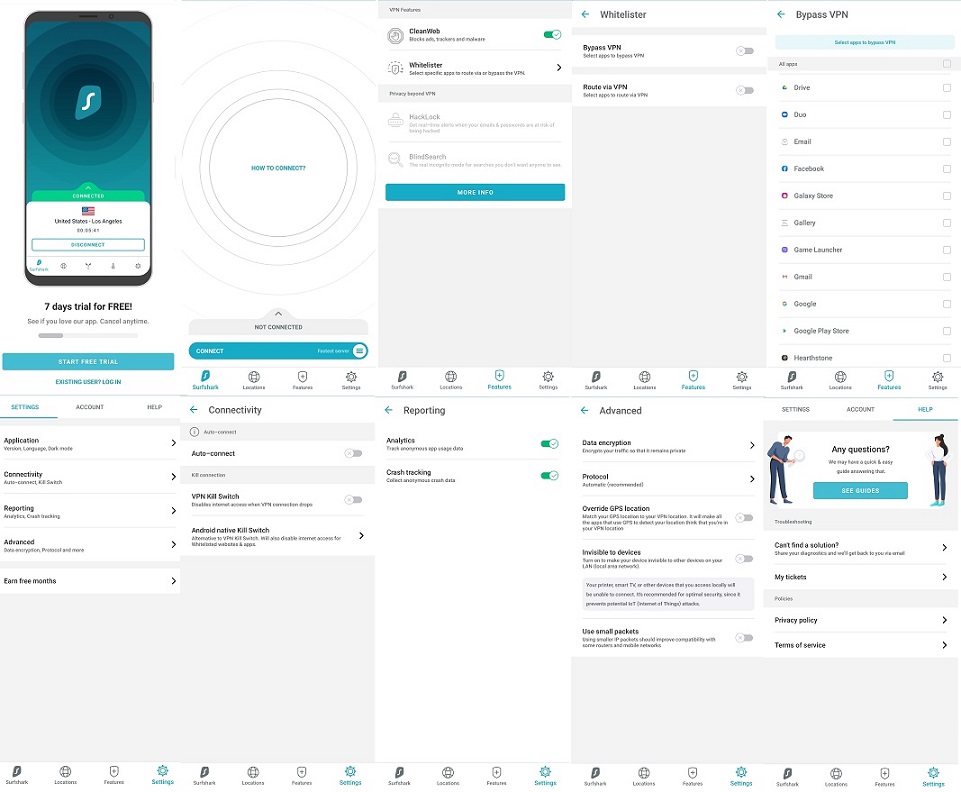 The same protocols are supported as on Windows which are OpenVPN UDP, and TCP as well as IKEv2, and Shadowsocks with a kill switch to protect your privacy even when the connection drops.
The Android version has some extra features over the IOS application, but this comes down to what the OS supports. These features are additional encryption methods, and the option to "use small packets" can further improve connection speed and stability on slow or unstable networks. The Android version also has an option to set wifi networks as secured or unsecured, this will automatically toggle on the VPN on unsecured networks, and toggle off the service on secured networks.
The apps have a built-in bug report system, where you can submit tickets without using a 3rd party browser.
Overall the mobile applications of SurfShark provide everything that an everyday user would look for in a mobile VPN client. The trial version is a nice way of bringing new customers in, but the cancellation method is a bit tedious because you do have to write to the customer support either through live chat or by writing an e-mail.
How to use SurfShark VPN on Linux?
SurfShark currently has no application for Linux but they do provide a simple terminal app. Because of this, it's a bit harder to use their service on Linux than on other platforms.
To use this we first had to download a Linux installer from the download page of Surfhsark. After installing the package, we recommend running the sudo apt-get update command in a terminal. The next step of getting SurfShark running is entering the sudo apt-get install SurfShark-vpn command into your terminal, once the installation is complete SurfShark is ready for use.
Running the sudo SurfShark-vpn command starts the program and asks for your SurfShark e-mail and your password. If the credentials are correct, you'll see a full list of SurfShark's server locations, there is an identification number next to all of the locations, you can select a server by typing the number into the terminal.
SurfShark for Linux uses OpenVPN protocol. The only option we have is the ability to choose between TCP and UDP. The service has a Quick Connect option that selects the server with the lowest latency. It has a built-in ad and malware blocker, there is no option to turn this off.
While installing the software for testing we ran into some problems with the VPN not connecting, after contacting the support on Live chat they quickly gave us a solution, the problem was with our DNS settings.
SurfShark's Linux client definitely needs some work, but because the size of the market on Linux, development for this platform probably isn't a priority for SurfShark. We can only recommend using this VPN on Linux if there is no better choice.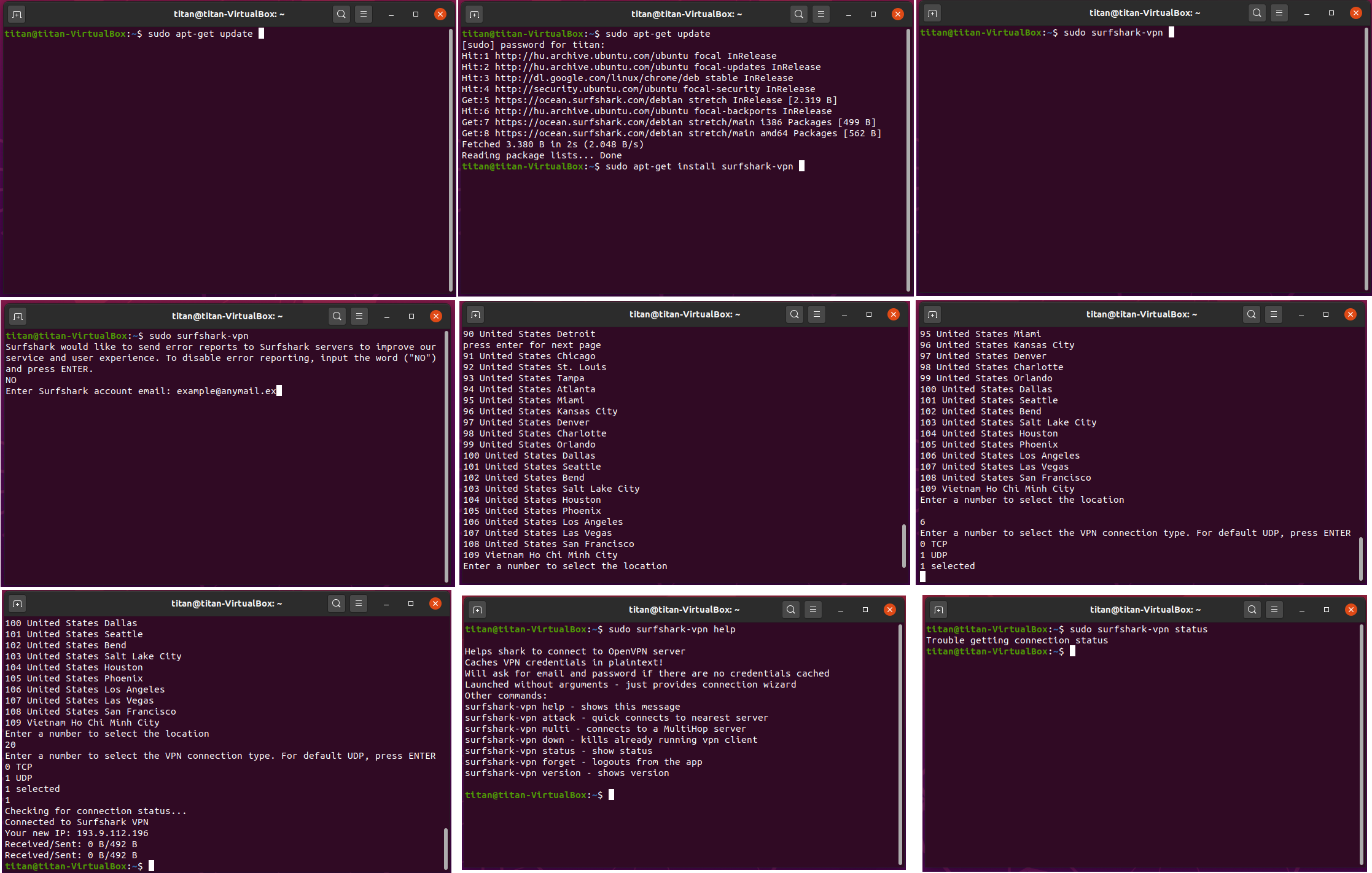 Protecting your router with SurfShark VPN
We tested SurfShark VPN on AsusWRT firmware and here is how we did it, and our thoughts on it.
Setting up a VPN connection on any router running AsusWRT is really simple, but SurfShark's website has really good tutorials for routers using DD-WRT and Tomato firmware as well. First, we had to navigate to the VPN panel on our router's configuration page here we selected add profile, gave the connection a name, entered our name and password provided by SurfShark on their website (please note that these aren't your SurfShark login credentials, these are automatically generated and can be found at the bottom of their ".../setup/router" site.
SurfShark also provides easy to use configuration files that are pre-configured for the server of our choice, these config files are on the same site as the service credentials.
Using a VPN on a router can make even not VPN compatible devices use a VPN network. The only drawback of using a virtual private network on your router is that it's difficult to turn on and off.
Setting up SurfShark was a really pleasant experience, and I haven't run into any problems or noticed any bugs while testing the service.
Is the customer service of SurfShark any good?
SurfShark offers robust customer service. You can avail of its live chat support 24/7, and the responses are near-instant. The quality of answers in the live chat is very good, and you will come out with the impression that the customer support team knows its job!
You can send ticket requests via email. SurfShark prominently displays its knowledge base on its website, and it includes VPN tutorials and FAQs. The FAQs have helpful articles that will guide you on various aspects, e.g., how to set up clients/apps, how to watch Netflix using SurfShark, how to watch Hulu, how to use features like BlindSearch, etc.
During the testing period, I had to contact the support several times and their 24/7 customer support was always quick to help, and even when I had technical questions, they were ready to answer them at a moment's notice. The live chat service is exactly as advertised. The support is quick, friendly, and professional.
What is the jurisdiction of ShurfShark?
SurfShark is headquartered in the British Virgin Islands, and it's subject to the laws of this territory. The British Virgin Islands has no data retention laws, therefore, SurfShark isn't legally mandated to retain logs of the users' activities online.
VPN service providers headquartered in the "14 Eyes" countries must retain such logs, given the laws in these countries allowing mass surveillance. SurfShark is certainly advantageous to you compared to such VPN providers.
Note that the British Virgin Islands are overseas territories of Britain, which is one of the "14 Eyes" countries. Britain could conceivably use its jurisdiction in the future, and influence businesses operating from this territory. You can consider the jurisdiction of SurfShark as fine due to the absence of data retention laws, however, it's not an ideal jurisdiction.
Does SurfShark keep logs?
SurfShark categorically states that it maintains no logs of its users' online activities and they don't monitor any of it. It states in its FAQ page that it collects no data that could identify its users. The company goes on to state that it doesn't track incoming/outgoing IP addresses, browsing/downloading/purchasing history, session information, etc.
If you are a privacy-focused customer, then SurfShark meets your privacy requirements perfectly. There are no reports of any wrong-doings on the part of SurfShark concerning their "no-logs" policy, indicating that the company follows what it commits.
SurfShark specifically states what information they store concerning their users, which are as follows:
· Email address, to connect to VPN and troubleshooting;
· Billing information, to manage the refund process.
· Diagnostics information, which contains crash reports and aggregate data, but no uniquely identifiable information.
Note that the SurfShark website tracks IP addresses and browser fingerprints of visitors. The website also uses 3rd party trackers, which includes Google Analytics. None of this amount to tracking your online activities when using its VPN, therefore, this is of no concern to privacy-focused customers.
Encryption and Technical security
An advantage of SurfShark is that while it uses IKEv2 as the default protocol, it also supports OpenVPN. Both are highly secure protocols.
We have already mentioned that SurfShark uses AES-256 encryption. The company also uses a TLS key exchange, and it secures it with RSA-2048, a highly secure key pair. Note that the SurfShark Chrome and Firefox browser extensions have been subjected to successful independent security audits.
Server locations for SurfShark VPN
NORTH AMERICA
Canada; Canada - Montreal; Canada - Toronto; Canada - Vancouver; United States; US - Atlanta, GA; US - Bend, OR; US - Boston, MA; US - Buffalo, NY; US - Charlotte, NC; US - Chicago, IL; US - Dallas, TX; US - Denver, CO; US - Detroit, MI; US - Houston, TX; US - Kansas City, MO; US - Las Vegas, NV; US - Los Angeles, CA; US - Louisville, KY; US - Manassas, VA; US - Miami, FL; US - New York, NY; US - Orlando, FL; US - Phoenix, AZ; US - Salt Lake City, UT; US - San Francisco, CA; US - Seattle, WA; US - St. Louis, MO; US - Tampa, FL
CENTRAL AMERICA & CARIBBEAN
Costa Rica
SOUTH AMERICA
Argentina; Brazil; Chile
EUROPE
Albania; Austria; Belgium; Bulgaria; Croatia; Czech Republic; Denmark; Estonia; Finland; France; Germany; Greece; Hungary; Iceland; Ireland; Italy; Latvia; Luxembourg; Moldova; Netherlands; Norway; Poland; Portugal; Romania; Russia; Slovakia; Slovenia; Spain; Sweden; Switzerland; Turkey; Ukraine; United Kingdom
ASIA
Hong Kong; India; Japan; Malaysia; Singapore; South Korea; Vietnam
AFRICA & MIDDLE EAST
Israel; South Africa
OCEANIA
Australia; Australia - Sydney; Australia - Melbourne; Australia - Brisbane; Australia - Perth; Australia - Adelaide; New Zealand
Conclusion
We have reviewed SurfShark in detail, and we are confident that if you are looking for a VPN provider with strong privacy and security features at a reasonable price, then SurfShark is an excellent choice. SurfShark offers excellent features, flexibility, and speed, moreover, it unblocks Netflix and other popular streaming services.
While some of its features are limited to the Windows and Android apps, SurfShark delivers what it promises. Its 2-years plan offers excellent discounts, and when you combine this with all its advantages, you will find SurfShark to be a great choice.